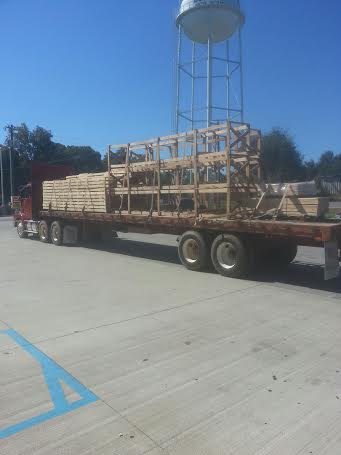 New Pallets

King Pallet Company manufactures new pallets in both hardwood and southern yellow
pine species. Along with standard pallets, we can make reversible pallets and custom
pallets of all sizes. Deck board thickness typically varies from 3/8" to 1.0". The deck
board pattern, or the spacing between boards on the top and bottom decks, can be
varied according to customer needs.

Custom Pallets

At times, a non-standard custom pallet is the only answer to your shipping needs and
King Pallet Company is here to help. Our engineering and logistics team can work with
your plant personnel to better understand your shipping requirements. We can even
tour your facility in order to learn as much as possible about your material handling
system and assess your pallet needs. We will develop a cost-effective pallet for your
application.

We will work with your packaging personnel to:
• Make design and cost recommendations

• Build to your specifications

• Ensure cost competitiveness in large and small quantities

Heat Treated (HT) Export Pallets

With the rise of global trade, the United Nations' International Plant Protection
Convention (IPPC) spelled out the specific standard by which all wood products used
in international trade would be treated for insects and other pests. The result is ISPM-
15 (International Standards for Phytosanitary Measures). King Pallet Company can heat
treat pallets (new or recycled), containers, or dunnage in accordance with ISPM-15.

Combination Pallets

Combination (Combo) pallets are a hybrid between new and recycled pallets, usually
containing new stringers and reclaimed deck boards. Like remanufactured pallets,
combo pallets have the advantage of being completely rebuilt pallets, so they can
have any board pattern that a customer desires. When viewed from the side, they look
almost like new pallets and make an excellent impression on receiving customers. Ideal
situations for combo pallets include: High end-user/customer expectations, for Heavy
loads, unique board spacing requirements, one-time (one way) applications, and heat
treating services.